WHAT'S INSIDE
Programs for all levels
---
Every program has easy to follow videos, descriptions and details! Improve your life, level up confidence, build muscle and burn fat!
WHAT'S INSIDE
Nutrition guide with tips, grocery list, & more
---
Join our private Facebook community and ask questions and get support!
WHAT'S INSIDE
Message me & request workouts
---
You can message me directly to ask questions, share progress, and tell me what content you want to see.
WHAT'S INSIDE
Get the support & guidance you need
---
Get the support & guidance you need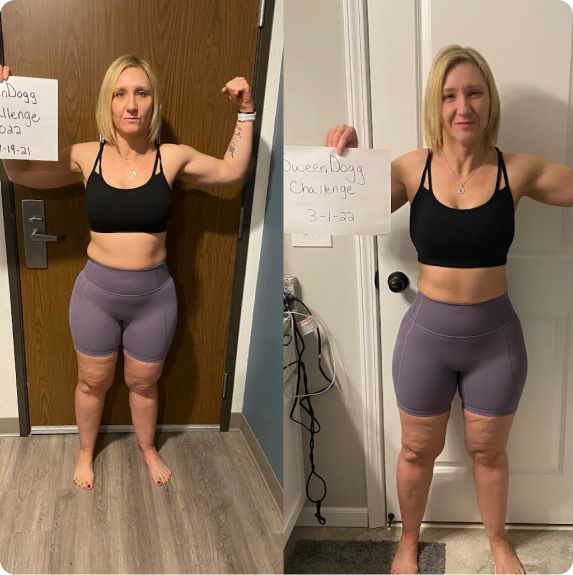 Amber B
This challenge was absolutely amazing!! I've been using your workouts for a least a year if not longer and just watching u and Noel grow and develop by helping myself and others to push ourselves and stay motivated has been such a lif...
Read more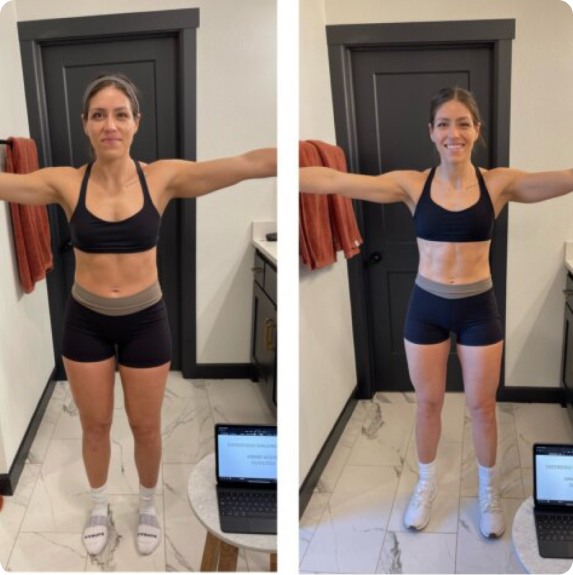 Annie W
AMAZING!! Thank you Sam & Noel for pouring into us! You gave me the courage & confidence that I needed. I lost 13.5lbs & feel so good!! Time for a reverse diet & a deload week. THANK YOU!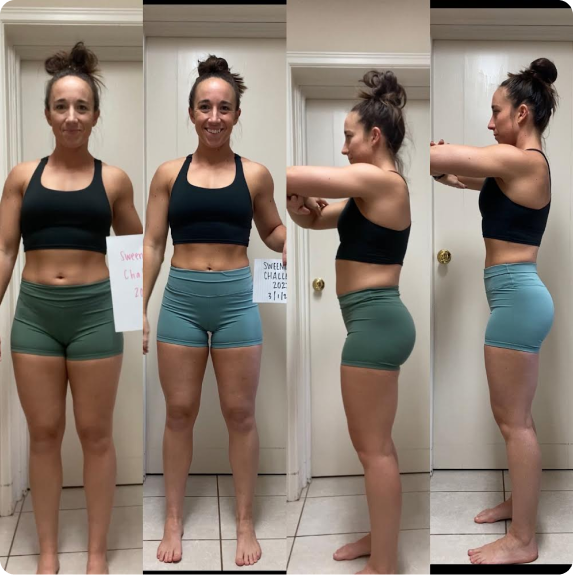 Ashley M
8 weeks of challenging workouts, but no surprise to me. I've been working out with the Sweendoggs for 2 years now with Hybrid, Strength, Hybrid 2.0 and the daily workouts on the app. Intensity has been the name of the game for some ti...
Read more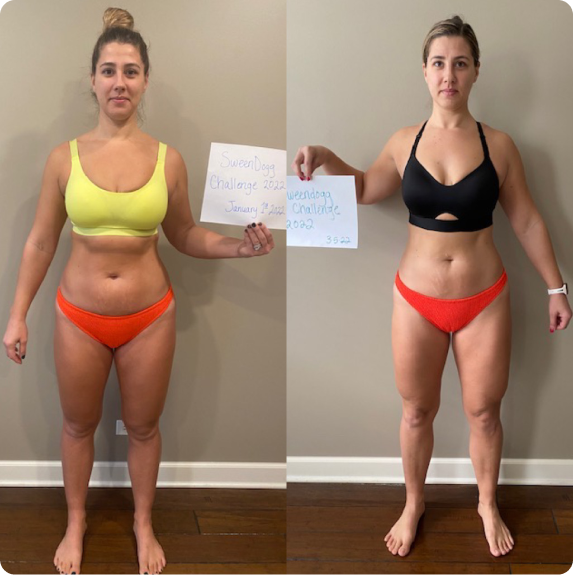 Ashley s
I'm attaching photos of the physical change, comparisons from the beginning of the challenge to the end. Please consider these and then imagine that the Hulk also entered me during my workouts for some of the best lifts of life so far...
Read more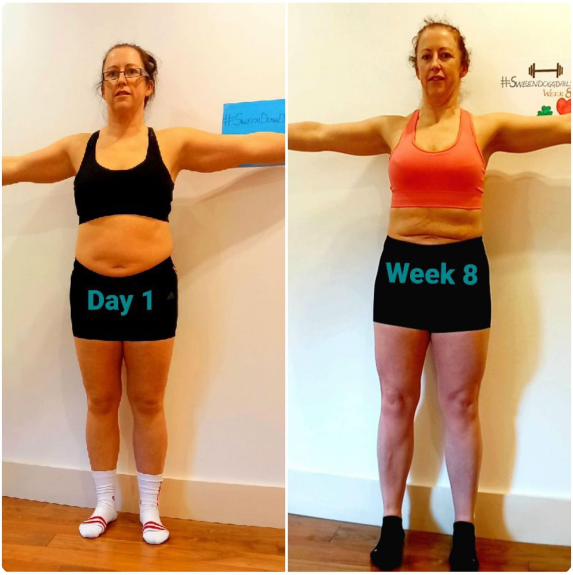 Carol K
This was unbelievable. I cannot recommend this app highly enough. The daily drop of recorded sessions kept the motivation and drive consistent. The variety of exercises kept interest high and challenging. Sam and Noel (and the pups) a...
Read more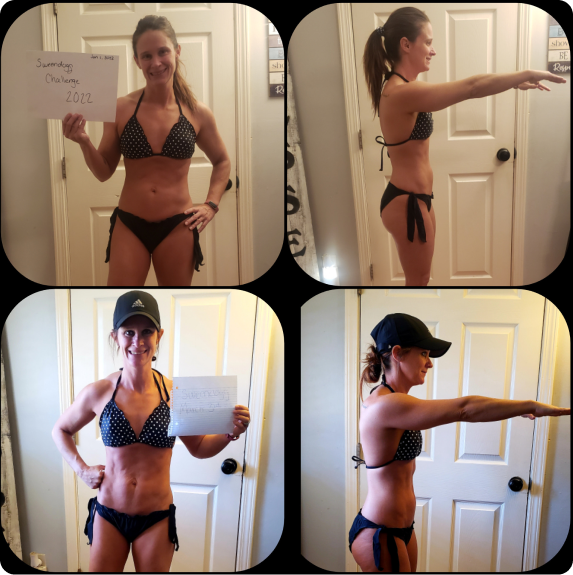 Christi B
The challenge was absolutely amazing. It was programmed beautifully and highly motivational. It was so inspiring to see so many people come together and support each other. I can't wait for the next one!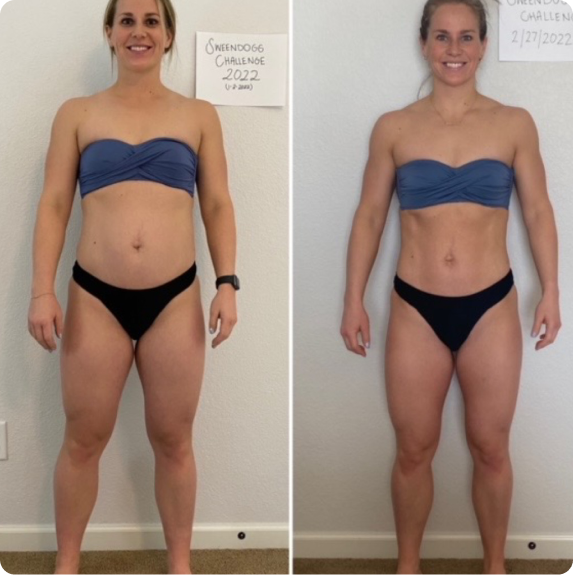 Christina B
Amazing! I loved that we had fundamental lifts stay the same throughout the program and we could build on that. I increased my weight on all my lifts and felt so strong at the end! I also loved the variety of new lifts. Some I had nev...
Read more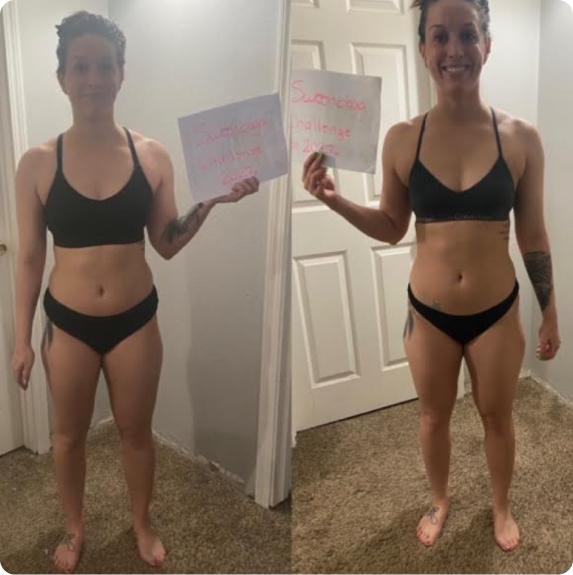 Deanna B
The challenge was amazing! I found my love for fitness again! Not only did I gain strength and physical changes I gained confidence in myself again. I feel great in my skin again! Thank you Sam and Noel for creating this challenge!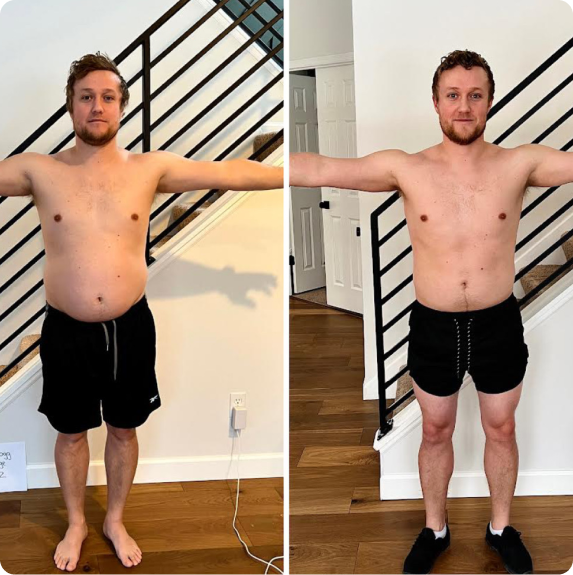 Ian M
(Warning, this may get long!). think the best words I have for this challenge are "Thank You!" This challenge has literally changed the course of my personal health. In the past 6 years, I've had 3 amazing boys, but with those boys ca...
Read more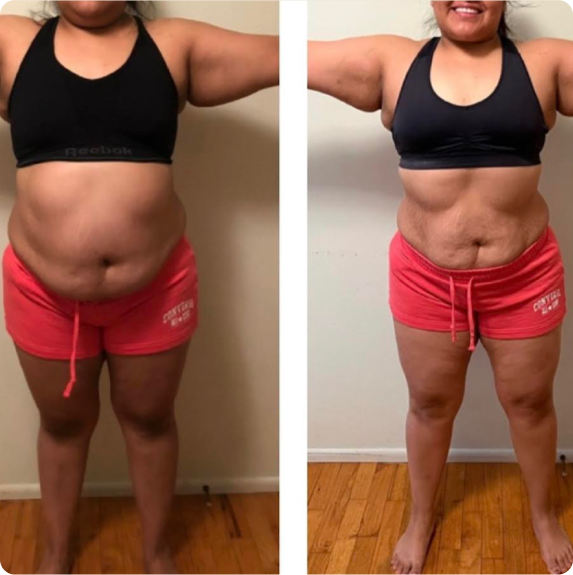 Jessica C
This structured challenging put on by the Sweenys is just what I needed to get my health back on track. It challenged me in multiple ways and not only do I feel physically stronger but mentally as well!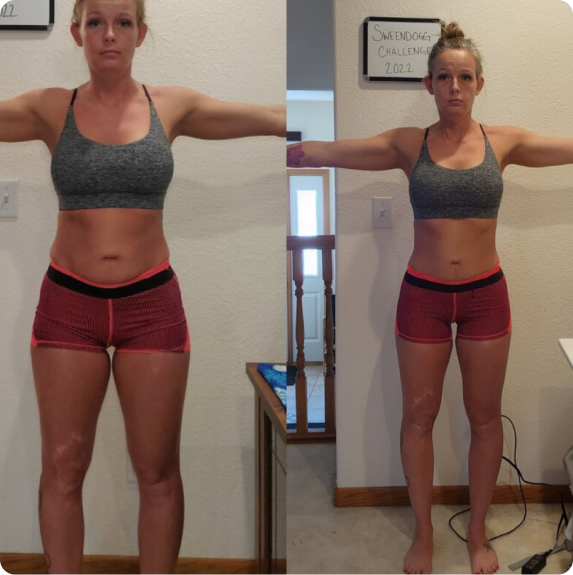 Jessica R
I knew that being a Personal Trainer myself didn't mean that it was going to be an easy challenge. It most definitely challenged me & my body to the maximum most days. I, however, never expected my body composition to change very much...
Read more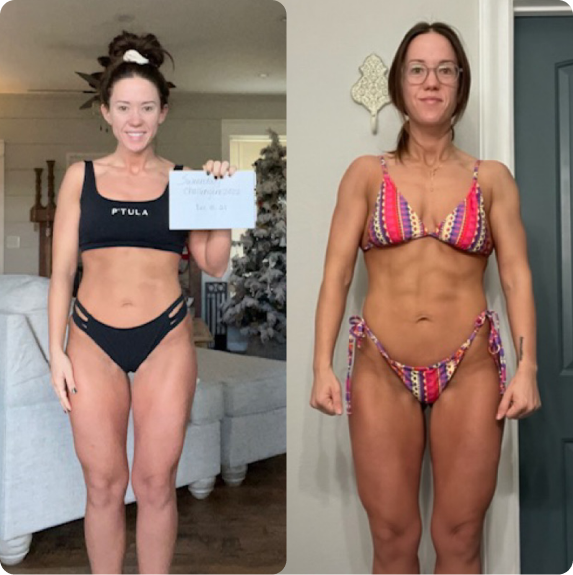 Jessie F
This challenge was mentally refreshing. The mental clarity I received was like no other. What made this challenge different was the community you have created. I made friends who are for me and want to see me achieve at my highest lev...
Read more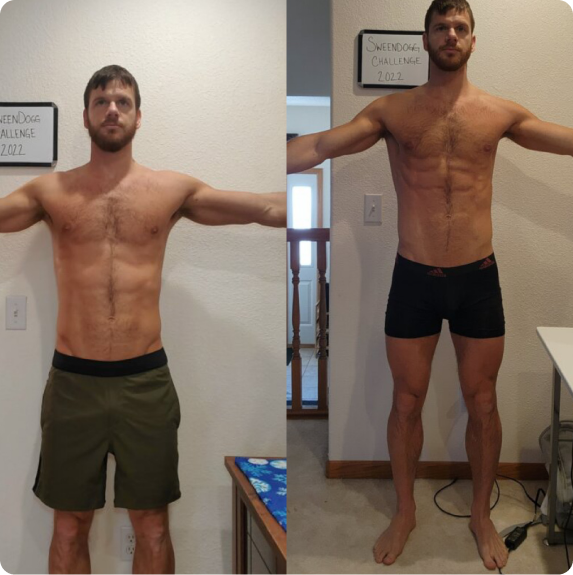 Jon R
I'll have to admit that initially I had no interest in joining but soon realized how glad I was that did. Many of the exercises were (at first) unappealing and some uncomfortable to do my own restrictions, physically and due to
me...
Read more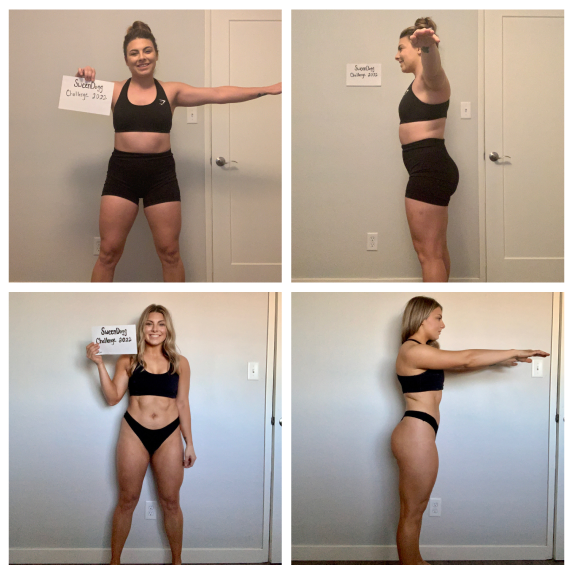 Karley L
I began this challenge with a commitment to myself to get under the bar no matter how uncomfortable I was; and I kept that promise to myself for the entire 8 weeks - every single workout. This program & community have made this progre...
Read more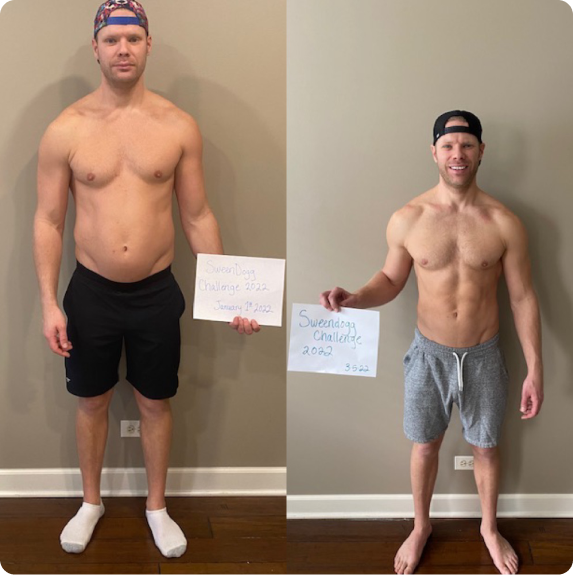 Michael S
I've never really followed a program and I have kind of always done my own thing when it came to training but my wife had joined your app and really wanted me train with her. was surprised at how challenged I felt when followed certai...
Read more
Nick A
Confidence, improved relationship, strength, knowledge, discipline, and perseverance are the words I associate with this challenge.
It was honestly great. My wife and I jumped into it together on her suggestion. wasn't sure abou...
Read more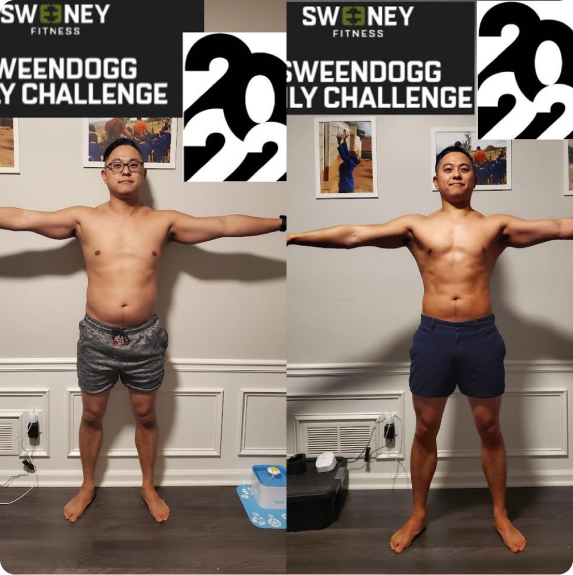 Paul H
Amazing challenge! Workouts were challenging but it's exactly what I needed. had been going through the motions at the 3-4 times a week. Not really hitting full gym body. Not even maintaining my fitness level. Started the insidious de...
Read more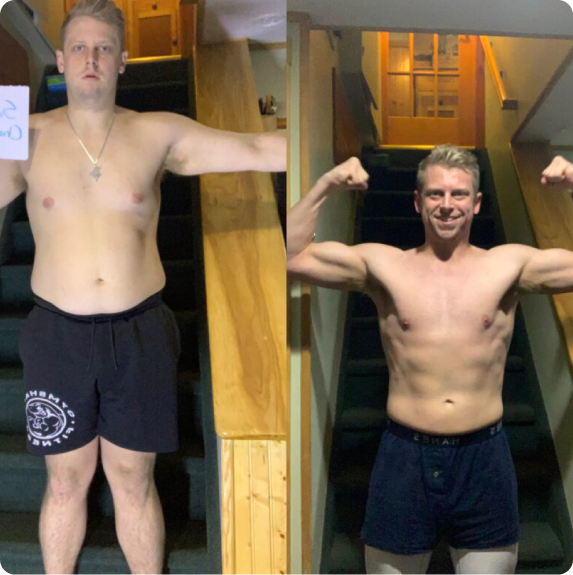 Ryan S
This challenge was a lifestyle change. I've done completions challenges set weight loss goals lifting goals, you name it I've tried it but for one reason or another never succeeded. The app, workouts, videos, detailed breakdown was a ...
Read more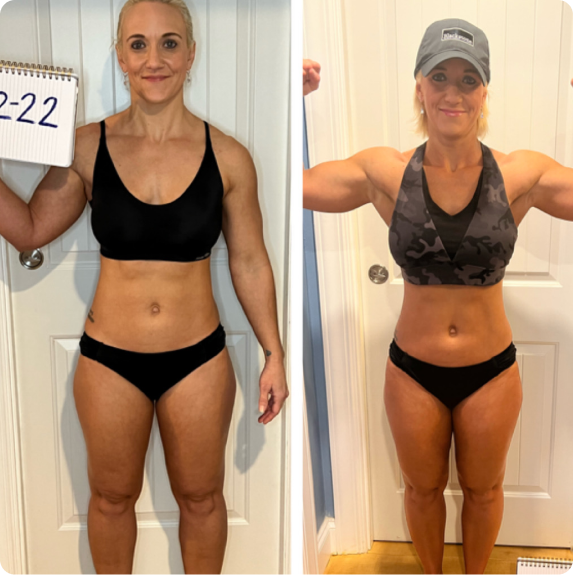 Sharon K
I loved this split. The workouts were physically and mentally challenging. I proved to myself that I am stronger than I give myself credit for. The best part is that as "the regulars" watched me do these workouts, I know I inspired th...
Read more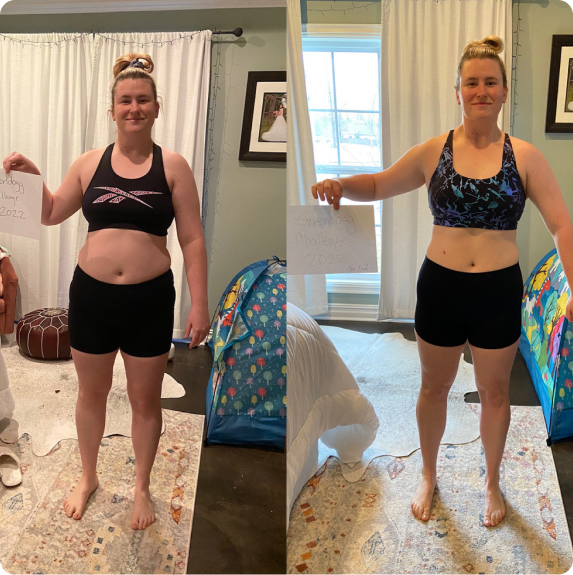 Skylar A
Thank you so much for this challenge! It was amazing to build strength, discipline and determination back!! And the physical difference is a big plus too ;)!
Over this challenge I have lost 17lbs total and am so looking forward ...
Read more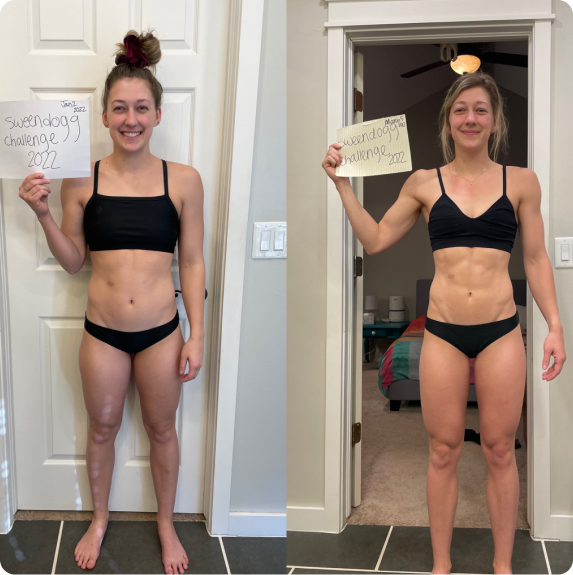 Tatum K
I feel like ME. Went through a major life change during these 8 weeks and the workouts kept me from falling into bad habits. It's so much more than a physical change. It's a life change.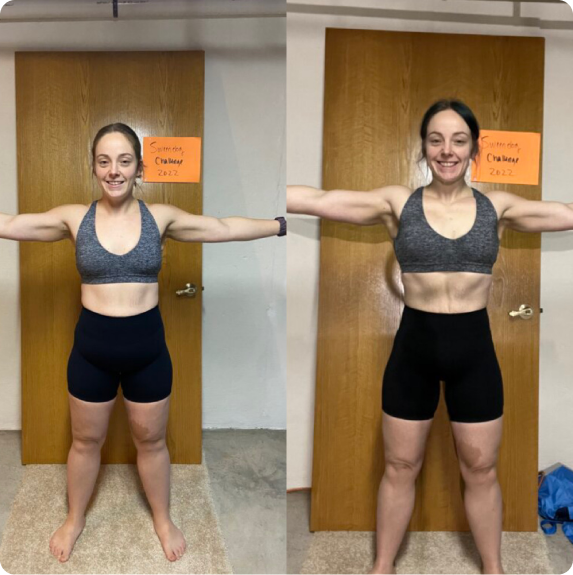 Taylor E
This challenge blew my mind Mentally and physically.
Mentally I overcame a lot of fear that was holding me back. I truly allowed myself to take up space, pushed my boundaries and tried new things. Took on 6 days a week at the gy...
Read more
Terence C
Definitely pushed my comfort limits and help me to increase my strength and endurance in the gym!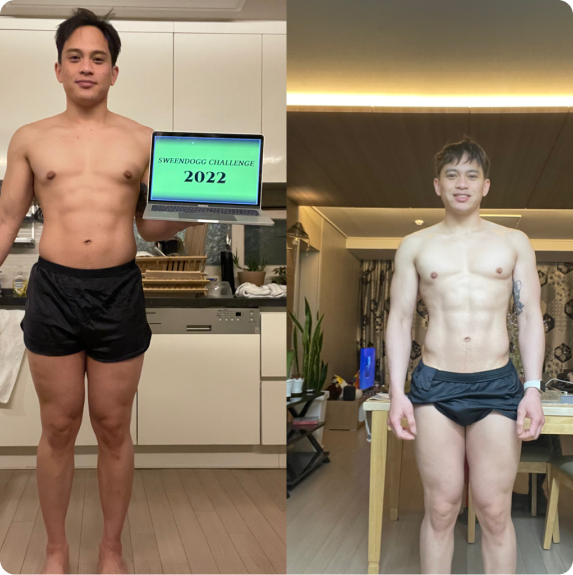 Vernon M
All can say is thank you for this 8-week challenge. I've gained so much strength and knowledge over the past few weeks! In less than 5 weeks I have my first ever amateur body building competition on April 9th, this body is a Sweendogg...
Read more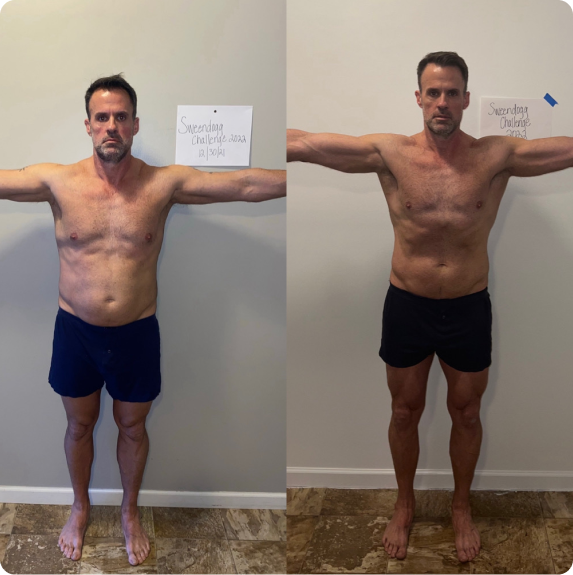 Will P
I loved everything about this challenge!! I am 51 years old and have never seen results like this in (less than) 8 weeks!! (I was out for about 21/2 weeks due to Covid and ankle surgery.) l gained muscle, strength and shed some fat as...
Read more
MONTHLY NEWSLETTER
Sign up here for free monthly workouts, training tips, & more